23.01.2017 Kids in Motion !
Today you will find several videos of Saturday-Sunday laziness of wonderful Jazz and Mundek babies !
---
21.01.2017 Five babies of Mundek anf Jazz !
We are very pleased to announce that on Tuesday January 17 in kennel IN THE RHYTHM OF JAZZ, children of Mundek and Jazz were born!
---

09.01.2017 Around the World !
It's time for a summary of our journeys in the last year.
---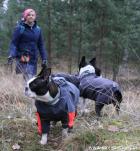 01.01.2017 New Year
New year's Eve and the first day we spend on the Sobieszewo island...
---

28.12.2016 Almost end of the Year !
Days after Christmas we spend in Karczemka on the Elblag Canal...
---
24.12.2016 Christmas 2016
And already Christmas came !
---

03.12.2016 And winter came !
And winter came, there is snow and some frost !
---

01.12.2016 The twelfth day of puppies in Cieszyn !
Children of Antek and Devi have 12 days !
---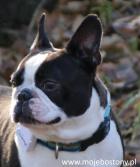 26.11.2016 On the Edge of Winter
From Friday we stay on Łubinowe Hill. Despite not a very favourable forecasts the weather is pretty good.
---

20.11.2016 Four in Cieszyn !
We are very happy with the birth of four bostons in breeding Z Księstwa Cieszyńskiego!